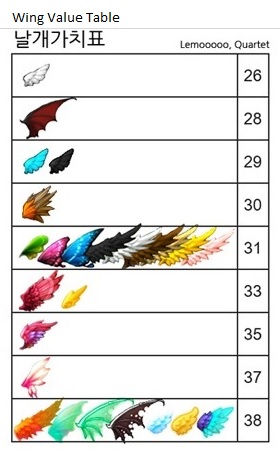 Usually, a foal with wings will have a breeding time of 12 hours and up. Like with other breeding traits, getting wings is all about luck, even breeding two winged horses won't necessarily get you a winged foal.
Some notes on wings:
Blaze and simba wings don't seem to show up on foals but you can tell by the breeding time + how much the foal is worth (carrots)
Some styles of wings, including angel wings and eagle wings, come in more than one color.
Feathered Wings
Edit
Wing Type
Average Time
Example
Eagle Wings
12-48 hours

Guardian Angel Wings
48 hours

Angel Wings

8-48 hours

(depending on color)

Golden Glow Wings
24-48 hours

Cupid Wings
48 hours

Princess Wings
24 -48 hours

Pizazz Wings

24-48 hours

Dawn Wings
24-48 hours

Queen of the Night Wings
48 hours

Gentleman Wings
24-48 hours

Sprout Wings
24-48 hours
Bat Wings
Edit
| Wing Type | Average Time | Example |
| --- | --- | --- |
| Wicked Wings | 8-48 hours | |
| Tattered Wings | 24-48 hours | |
| Spectral Wings | 24-48 hours | |
| Mini Devil Wings | 24 hours | |
Fantasy Wings
Edit
Insect-Type
Edit
| Wing Type | Average Time | Example |
| --- | --- | --- |
| Will-o-Wisp Wings | 12-48 hours | |
| Pixie Wings | 12-48 hours | |
| Circus Wings | 24-48 hours | |
| Faerie Wings | 12-48 hours | |
Fire-Type
Edit
Plant-Type
Edit
| Wing Type | Average Time | Example |
| --- | --- | --- |
| Leaf Wings | | |
| Clover Wings | | |
| Petal Wings | | |
| Lotus Wings | 24-48 hours | |
| Pumpkin Wings | 12-48 hours | |
| | 12-48 hours | |
| Wing Type | Average Time | Example |
| --- | --- | --- |
| Sea Pony "Wings" | 24-48 hours | |
| Springtime Wings | | |
| Ice Wings | | |
| Beowulf Wings | | |
| Little Gold Wings | 12-48 hours | |
| Rainbow Wings | 48 hours | |
| Helios Wings | 24-48 hours | |
| Puffy Wings | | |
| Kelpie Wings  | 24-48 hours | |